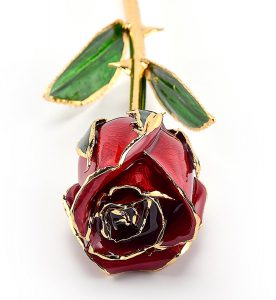 As a mother, I love getting flowers for Mother's Day and I enjoy giving flowers to my mom for Mother's Day each year.  However, I hate throwing them away a week later.  It always seems so tragic somehow to just toss out a gift and only have pictures to show.
The first time I ever saw a 24K Gold Trimmed Fresh Cut Rose, I though how ingenious!  I love roses, but I also love being able to keep the gifts that my children give me.  These preserved roses allow me to have both.  Because they come is a variety of colors, they can give me a different color every year to make a gorgeous bouquet representing years of expressed love.
These roses are fresh-cut roses that have been preserved to last a lifetime.  Then dipped in 24k gold.  Each one is one of a kind, just like each mother is one of a kind.
24K Gold Trimmed Fresh Cut Rose – Red
The red rose is probably the most popular for Mother's Day since it is traditional the flower representing love.  Plus, red on Mother's Day signifies your mother is still living.  If you only buy one, or only one per year, the red rose is the best choice for the first year.
 DeFaith Red Gold Rose for Mom, 24K Gold Rose Made of Real Fresh Rose. Last a Lifetime.Check Price M Dream Long Stem Trimmed 24K Gold Dipped Real Rose Red 11 Inches Set of 1Check Price
24K Gold Trimmed Fresh Cut Rose – Pink
Pink roses are extremely popular, perhaps even more popular than a red rose if your don't attach a "meaning" to the color and simply make the selection by color.  With most of these roses, you choose between a fully bloomed rose or a rose bud.  They are both gorgeous!  Again, they allow different options for starting an annual tradition of giving a different rose each year.
 Pink Gold Rose, DEFAITH 24K Gold Trimmed Long Stem Real Rose with Moon-shape Rose Stand. Last a Lifetime. Best Anniversary Gift.Check Price DeFaith 24K Gold Fresh Cut Pearl Pink Rose with Stand, Gold Rose for Valentines Day Anniversary Mothers Day Birthday Great Gift for Her for Mom for Wife for GirlfriendCheck Price
24K Gold Trimmed Fresh Cut Rose – More Colors
So many beautiful colors! It really is hard to choose the best color. I recommend starting with your mother's favorite colored rose and adding a different color each year. My favorite rose color, probably because it is quite rare, is the blue rose. My brother gave me a blue rose bush years ago. The roses were indeed blue for that first year. However, every year since then they have bloomed pink or light red. I suspect there was some rose food or rose fertilizer that I was supposed to use for it to continue producing blue roses. Sadly, I did not know what to do and I still haven't found any reliable information on how to keep a blue rose bush.
 DeFaith 24K Gold Dipped Fresh Cut Pearl Ultra Purple Rose with Stand, Gold Rose for Valentines Day Anniversary Mothers Day Birthday Great Gift for Her for Mom for Wife for GirlfriendCheck Price Yellow Gold Rose, DEFAITH 24K Gold Trimmed Long Stem Real Rose with Moon-shape Rose Stand. Last a Lifetime. Best Anniversary Gift.Check Price DeFaith 24K Gold Dipped Fresh Cut Pearl Blue Rose with Stand, Gold Rose for Valentines Day Anniversary Mothers Day Birthday Great Gift for Her for Mom for Wife for GirlfriendCheck Price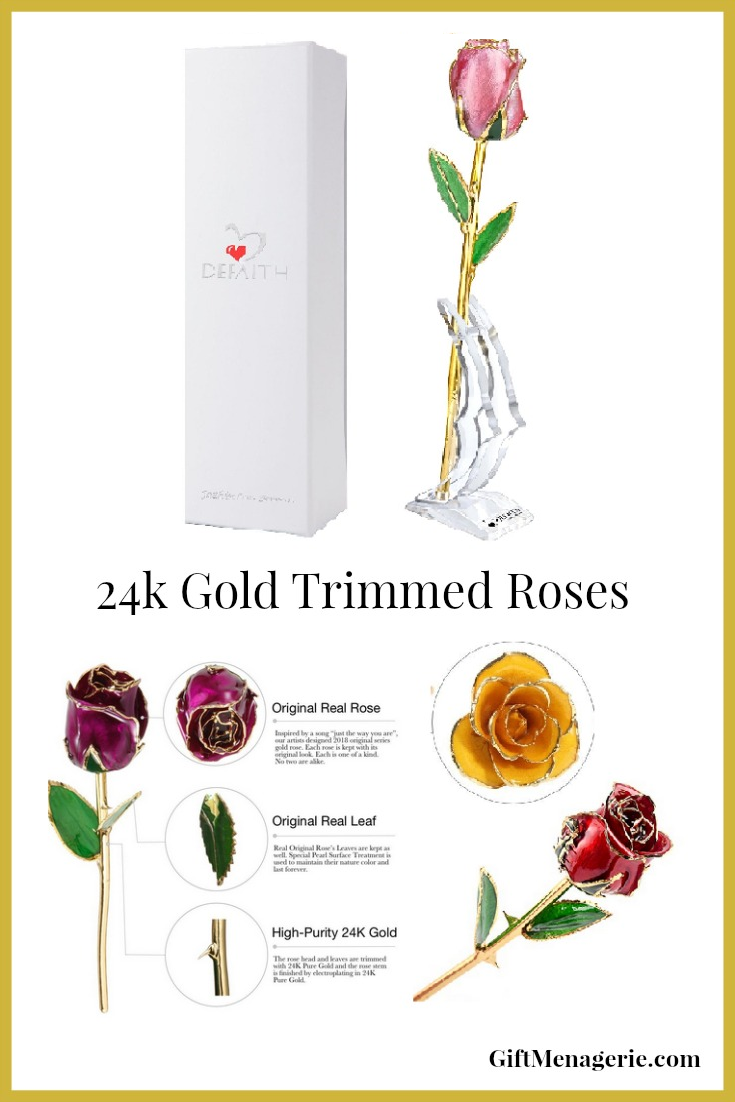 Search for A Different Gift
---