This article contains affiliate links. If you click a link & purchase items, I will receive an affiliate commission at no extra cost to you. "As an Amazon Associate I earn from qualifying purchases."
Band T-shirts Feature Fabulous Artwork Too!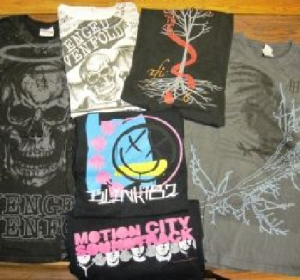 Jeans and band t-shirts have been the preferred attire for decades.  We all love our music and we all wear our favorite band t-shirts until they are seamless and threadbare.  The artwork on them is often as beautiful as any artwork in a museum.  Let's face it, like the albums themselves, the apparel pieces are collector's items and our own personal history can be told by the pieces we have owned.  These shirts reflect our preference in music at a particular time as well as our mood or frame of mind for a particular day.
I remember many times being excited about purchasing, owning and wearing my new apparel after a concert.  There was a time that if you didn't get the t-shirt at the event, you simply were not able to ever get it.  Now, with band merchandise being available with online shopping, we can even purchase many of the items before the concert!  How awesome is that?  Get it before the concert, wear it to the performance and hope to get the performing artist to sign it.  Man! Talk about a collector's item, ugh, provided you ever take it off again.
Great Band T-shirts
 The Rolling Stones – 50 Years Tongue T-Shirt, Grey, MCheck Price AC/DC Hard Rock Band Music Group Back In Black Adult T-Shirt TeeCheck Price AWDIP Men's Official Blink 182 Logo T-Shirt Smiley Yellow Rock Pop Punk Band GroupCheck Price The Beatles T Shirt Drop T Band Logo Official Mens Vintage Finish BlackCheck Price Avenged Sevenfold Men's Alchemist T-shirt Small BlackCheck Price Journey Men's Beginning T-shirt Medium BlackCheck Price Kiss T Shirt Vintage Distressed Band Logo Official Mens BlackCheck Price AWDIP Men's Official Nirvana In Utero T-Shirt Rock Band Alternative Kurt CobainCheck Price Liquid Blue Men's Led Zeppelin USA Tour '77 T-Shirt, Multi, LargeCheck Price Iron Maiden T Shirt Killers Circle band logo new Official Mens GreyCheck Price AWDIP Men's Official Hydra Within Temptation T-Shirt Album Music Metal Gothic DragonCheck Price
Great Music
We all have our favorite bands and performers.  Here are a few featured articles about specific groups or soloists that you may also enjoy reading.  Simply click the image to read the entire article.
 Music Speaks to My Soul ~ Within Temptation: Unique and rare combination of a songwriter with the heart of a poet, a band with remarkable musical ability and a vocalist with an unbelievable range, clear voice quality and tremendous breath control. The Voice of Josh Groban Touches Deep into the Soul: Josh Groban truly has the voice of an angel. His ability to smoothly sing notes with an unparalleled vocal strength is amazing, beautiful and touches deep into my heart and soul. The Journey with Journey: Some of my favorite songs were originally preformed by the band Journey. For generations, Journey has touched hearts with their music. In the journey of life, almost everyone has a musical artist or band that defines who they are, what they love,… Martina McBride: I guess just about everybody has a favorite Martina McBride song. For me, it is hard to choose just one. I have always enjoyed lyrics that tell a story or make you feel like you have lived that song yourself or know someone that has experienced it… Music of the 50's ~ A Decade of Distinction: The 50's music was an era of real talent, hard work and little compensation. The musical artists of the 50's were in the industry for the love of music. While some may have hoped for fame, they certainly could not expect bulging bank accounts. Halloween Music ~ Popular Punk Rock and Metal Music for Halloween
Search for A Different Gift
---