I love giving people gift baskets and spa gifts are a really luxurious idea for women who don't always take the time to pamper themselves.  Let's look at how to put together a luxury spa gift basket that anyone would be overjoyed to receive.
Now some people start with the basket, but I like to think of what products I want to give someone first because sometimes when I think gift basket I can mean a toiletry tote, a bath caddy, a tin pail or something completely different!  Every spa gift basket I've put together for people have been personalized to suit so these ideas are all open for your own personal tweeks depending on what type of person the recipient is.
Relaxation Gift Baskets
One of my favorite type of gift baskets to give is a relaxation gift basket because how many women need to be prompted to relax?  We run around after everyone and don't always take time for ourselves.  If the person you're buying for is a new mum then pop in a voucher (which you can print off of the computer) for free babysitting services one night so that she can really relax and enjoy the goodies you've given her.
When it comes to a relaxation gift basket I think adding an essential oil and a diffuser is a perfect idea, personally I love adding the Harmony Blend from Arbonne as it's a really nice aromatherapy blend that helps you to just feel more centered with yourself.  Of course you could always add lavender oil as this is the queen of relaxing oils when it comes to aromatherapy.  If they enjoy taking a bath I would also add some Rescue and Renew Detox Soak.
Of course a mask is important whether it's to put on while they're in a bath or just while they're lying down on their bed or binge watching something on television.   Again, add personalized touches, if they like binge watching with popcorn then make sure you add popcorn to the gift basket.  If they prefer reading then add a book, or maybe they'll just enjoy lying down and day dreaming.   A mask which really adds to the spa feeling is Arbonne's Rescue and Renew Detox mask which is a creamy French pink clay formulation.
Once she's taken off the mask continue that relaxing feeling with some gel eye masks to cool and soothe her eyes and give her the look that she's had a full 8 hours of sleep (essential to add to a gift basket for a new mum!)
You could finish it off with a nourishing facial oil, a serum or a good quality day or night cream.  I also always like to add a luxury bath towel to the basket as she can use that for a touch of luxury every day.
Bath Gift Sets for Her
If the person you're creating this luxury spa gift for has a bath and enjoys using it then a bath gift set is a perfect idea for her.   I like the idea of getting her a bath caddy, a luxurious bath towel along with the Rescue and Renew Detox soak and the Rescue and Renew Detox mask.   While she's having a relaxing soak and letting her mask do it's magic she's probably going to be feeling a little thirsty.  This is where it will change depending on who you're making up the gift basket for and what they enjoy drinking.  I have created bath gift sets with a wine glass and a little bottle of wine as well as sets with a coffee mug and some delicious coffee and even a tea for one set with some nice tea.
Now on the rare occasions that I had the house to myself when my daughter was younger I enjoyed a nice bath in candle light as I found it very relaxing and soothing so a lovely candle (especially with a nice scent) could be in the gift basket as well.  There's a new Spiced Vanilla Chai Candle available from now until Christmas which sounds divine, alternatively you can get floating candles which look lovely in photos although I've yet to try them myself.
If the person has a sense of humour or you just want to inject a little fun into the gift set then you can always add a rubber ducky (apparently even the Queen of England has one!), whether you choose a traditional yellow rubber ducky or one of the unique celebrity inspired rubber duckies you can get!
After they've finished in the bath and have dried themselves on that luxurious bath towel then they'll want to add some lovely moisture back into their body and I don't think you can go past shea butter for that.  You could choose just a shea butter lotion which I use every day and absolutely love or you could go for a shea butter body butter which is one of the holiday products available from now until Christmas and is definitely going on my Christmas wants list!
Luxury Spa Gift Baskets for Her
The key to a luxury spa gift is to make sure that the products are of a really good quality so that she can feel really pampered and spoiled.  The reason that I love using mainly Arbonne products in gift baskets is because of the luxurious quality that they represent.  Once you try any of their skincare products you just won't want to use another brand.  They use really good quality products and no fillers which means a little goes a long way.
An essential for spa baskets in my mind is a mask, but sometimes when people think of a spa they're thinking of exfoliating or their feet or even their hair.  There are some absolutely gorgeous products that can be a basis for any luxury spa gift basket for her that incorporate any of these ideas.
An Exfoliating Spa Gift Basket Idea
If you want to ensure that you have super smooth feeling skin then the Rescue and Renew Detox Scrub followed by the Rescue and Renew Body Lotion is a perfect pairing.  Add this to a luxury bath towel along with some special tea, coffee or something stronger.  Depending on the person you're buying for you could add some eye gel masks, hand cream, a book or even a c.d. (yes I'm going old school as not everyone steams their music!)
A Foot Inspired Spa Gift Basket Idea
Now you could get a foot spa, I had one years ago and absolutely loved it, but these days I just use a plastic basin designed to do the dishes in when I want to soak my feet.  Whichever option you go for will be your 'gift basket' to this you need to add a small fluffy hand towel and Arbonne's Pampermint Foot Care Gift Set.   This set includes a foot scrub, foot cream and some festive socks all designed to soothe and cool your feet and leave them minty fresh.
Don't forget to add a few other goodies – a mug with either some nice tea or coffee, a face mask, eye gel masks, book etc.
A Hair Inspired Spa Gift Basket Idea
If you're buying for someone who loves their hair then you'll be pleased to know that you can get some lovely products to give their hair the spa treatment it deserves.   If their hair is color treated then the Pure Vibrance Hair Revitalizing Masque is a must have product.  I would also include the Lustre Fortifying Shampoo as you need to use this first to clean your hair before adding the masque to it.
Other products to add to this gift basket include ColorLast Hair Serum, ColorLast Hair Spray and some Texturizing Mousse.   I would also add a few hair accessories to the basket and when I say basket I would probably use a gift box in a design that they wouldn't mind leaving on display as they can then keep all of their hair accessories in it.
Spa Gift Basket Ideas for Everyone in Your Life
Now I generally think of spa gift baskets as being for ladies, but you can also make up a pampering spa gift basket for the men in your life.  Different age groups like to get different products in their spa gift baskets as well so lets have a look at a few spa gift basket ideas to use.
A Spa Gift Basket for Men could include a shave cream, after-shave soothing lotion, micro-exfoliating cleanser, mask (the Rescue and Renew Detox Mask suits all skin types) and an anti-ageing moisturiser (Arbonne's men's skin care range features all of these products).  Add in a nice razor, a couple of face cloths and a towel and you have a lovely selection of products to add to a man's spa basket.
If they have a beard you could leave out the razor, shave cream and after-shave lotion and instead add in a luxurious beard oil, preferably one made with pure essential oils.
A Spa Gift Basket for Gorgeous Hands – a lovely spa basket could include the Rescue and Renew Detox scrub to use on your hands, some cleansing cloths to wipe the scrub off and a luxurious hand cream to apply afterwards.  You could also add in a gift voucher to get their nails done, or if they enjoy doing it themselves add a couple of nail polishes, nail cuticle oil, nail file and nail buffer stick or cube.
A Spa Gift Basket for a Millennial could include the gorgeous Prepwork range to introduce them to good skincare while they're still young.  Also add in some essential oils and a diffuser, harmony blend or lavender for relaxation and focus blend if they're studying.  Instead of adding tea or coffee to their spa basket add some Fizz Sticks which are a natural energy drink that is so much better for them than soda, coffee or other high sugar energy drinks that are available.
A Spa Gift Basket for a Sports Person – whether they're male or female if you know someone that's very sporty then their spa gift basket should definitely include the Rescue and Renew Detox soak as well as the Rescue and Renew Detox Gelee to rub on their tired muscles.  I would also add the Rescue and Renew Detox Mask and throw in some of the PhytoSport range – the Prepare & Endure sachets, Hydration Plus sachets and After Workout sachets – if you don't want to get them all then just settle for the Hydration Plus.
So How Do You Put Together a Luxury Spa Gift Basket?
Now as I said earlier although we say gift basket you can use anything as a basket from an actual basket to a gift box, a plastic bowl, a ceramic plant pot to name a few.   Decide what products you're going to use and see how much space they take up, you don't want to use something that's too small or too big so it's important to see how much space everything will take up.
Next you have to think about fillers – by this I mean do you want to use tissue paper to fill out the 'gift basket' or the 'pretend straw' type of filler?  Personally I prefer to add a bath towel, face cloths etc where you could put fillers so that it lifts up the products, fills the space, is practical and also adds to the feeling of luxury.
You have to decide how you are going to cover the basket which will help you to decide how much height to give to the 'basket'.   Clear cellophane is the popular choice for using over a gift basket – tied at the top with a bow, but it's not the only option.  An option which really takes it up a notch is to use tulle in place of cellophane and this gives a lovely high end feel to the basket.
When I worked in retail during the holidays we used two other ways to cover our gift baskets – tissue paper and cling film (or Saran wrap).  The tissue paper would only work on small gift items, so if you had a few things in a ceramic pot for example you could take two different colored pieces of tissue paper and place the pot on top of them.  Bring the paper up (so that you could only see one color) and tie ribbon around it to hold it together and then tie a bow and curl the ends.  Now you gently pull the tissue paper out at the top revealing the second color – it's also a great way of wrapping a bottle as it looks like you've been to a high end boutique!
If you want to use cling film/Saran wrap then you want the basket to be rather flat on top (not too much disparity in height) and you should also have a heat gun.   Pull the wrap over the top and have the two ends come together on the underside – using the heat gun you can help seal it so that the wrap doesn't come off before they open it.
I hope you're more confident about how to put together a luxury gift basket, but if you're unsure please feel free to reach out and I'll do my best to answer any questions.   If you want to ask me any questions relating to the products I've mentioned privately then please send me a message via my Facebook Page.
Want to Save Money with Your Luxury Spa Gift Basket?
A free tip is that I often use second hand baskets as you can get some really cool looking ones at thrift shops for a fraction of the price.  I also keep any baskets I receive in a cupboard to form the basis of a gift basket for someone else!
What I really wanted to tell you though is that you can get a discount on some of the gorgeous Arbonne products when you're a preferred client.  I advise all of my friends that when they visit the site – louannecox.arbonne.com – that they actually sign up as a preferred client (there's an annual fee) before going shopping.  Once they've added all they want into the shopping cart they can clearly see how much the discount is.  If this amount exceeds or equals the cost of the preferred client fee then carry on, if it doesn't simply delete the preferred client fee from your shopping cart.
Between you and I though if you're buying 2-3 products it usually is worth while becoming a preferred client.   As a preferred client you get 20% off of the recommended retail price and you can also get special sets of products that are discounted even further, usually 40% off the standard retail price.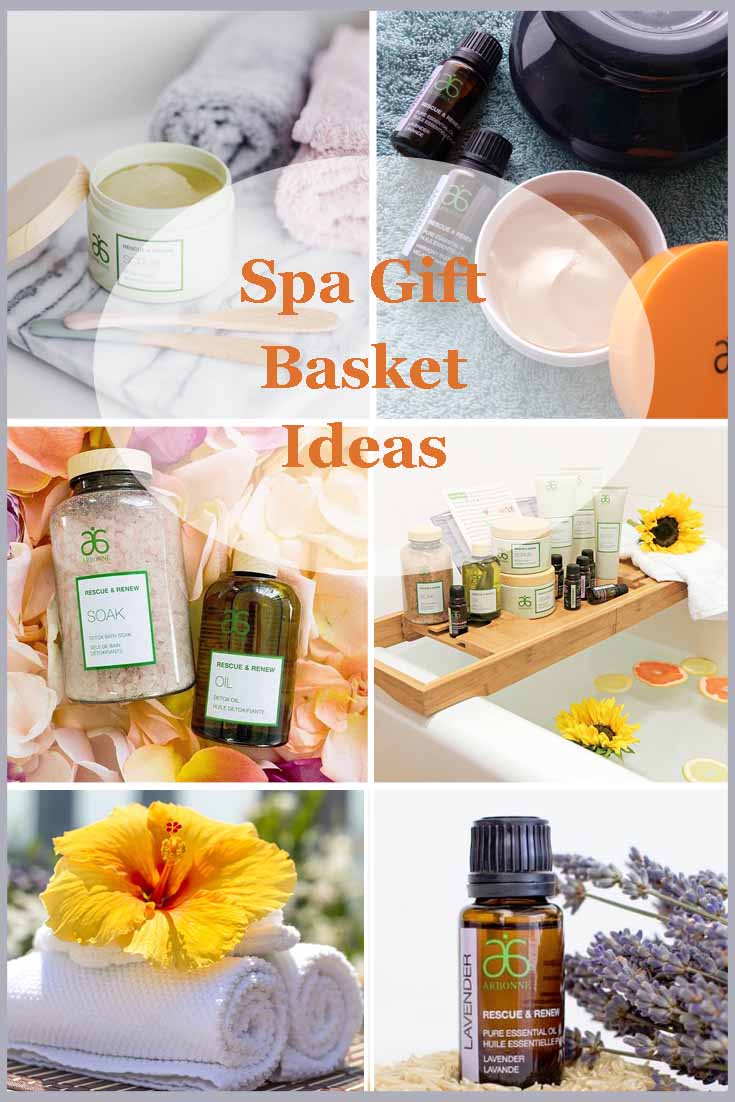 Search for A Different Gift
---