Piccolo Bambino baby blankets and gifts make adorable baby presents!
I recently discovered the Piccolo Bambino Blankie. These animal baby blankets make perfect gifts to give to the mother and the child.
When I am invited to a shower or looking for a baby gift for any occasion, I always want to give a gift that is practical. One that the mother will love, but I also want to give something cute like a stuffed animal. Something the infant will love and enjoy.
I can just imagine the precious little one cuddling this sweet animal as they nap. Then as they start walking, I can envision the toddler dragging this Cuddly Pal everywhere they go and loving them along the way.
Animal & Blanket Gift Sets
Baby Yellow Plush Giraffe with 2 Flannel Blankets and 1 Throw Plush BlanketCheck Price
The Animal gift sets, like the giraffe shown here, come with a plush animal and several blankets.
What an adorable and inviting giraffe with such a sweet smile. He makes me smile just looking at him. The soft, yellow plush giraffe is so huggably precious.
There are other animals available in this Piccolo Bambino line. Perhaps you would prefer a lamb or bear. Either way, both the animal and the blankets are sure to become great gifts and companions for babies.
Plush Pull Toys with Blankets
Piccolo Bambino 2 Count Pull Toy with Baby Quilted Blanket, Teal Blue HorseCheck Price
All toddlers love to have their little pull toys to bring along with them wherever they go.
These gift sets include the blanket and the animal pull toy which will patiently wait for the child to play.
The blanket is, of course, removable and the wheels are also detachable for stationary play or to be handled and loved by a baby. The wheels won't be needed until the baby starts walking and wants to pull their precious playmate behind them.
Choose between a brown puppy, a pink elephant, a white lamb or the blue horse featured here. Either animal would a cherished pet.
Hooded Bath Blankets
Piccolo Bambino Baby Bath EnsembleCheck Price
Hooded bath towels and blankets are a fabulous way to cover an infant or toddler from head to toe to ward off the chill after a bath.
Children love the little animal towels. They will love them so much, you may actually have trouble getting the child out of the towel blanket and dressed for the day.
In addition to the hooded towel, the set also includes a wash mitt and 2 washcloths.
Baby Bibs and Washcloths
Piccolo Bambino Cotton Bib, Blue, 5-CountCheck Price
Bibs and baby washcloths have always been a traditional part of a baby shower gift. It seems like you can never have enough bibs or washcloths for a baby.
When my children were infants, I simply could not keep the wash done daily and I needed a ready supply of clean bibs and washcloths for each meal or snack.
Not only are they practical, but this set features a really cute fox and a squirrel. The images alone are sure to enchant the baby while they serve a very useful purpose. Both the mother and the baby will be delighted with this gift.
Beautiful Gift Sets
Piccolo Bambino Cotton Velour 5 Piece Gift Set, PinkCheck Price
Some gift sets are just so cute they make you want to keep them yourself!
The little blanket set with the bunny seem to have that effect on me. I always think how cute they would be for my own grandchild one day and oh my, what if I couldn't find another set when my grandchildren enter this world.
We simply couldn't risk not having one for our own grandbabies!
The Ultimate Gift Set!
For the long awaited child, the perfect gift set that includes almost everything needed to setup a baby layette. The essentials are truly pretty much covered here, except the diapers. These gifts are all bundled together for a beautiful presentation in a lined wicker basket.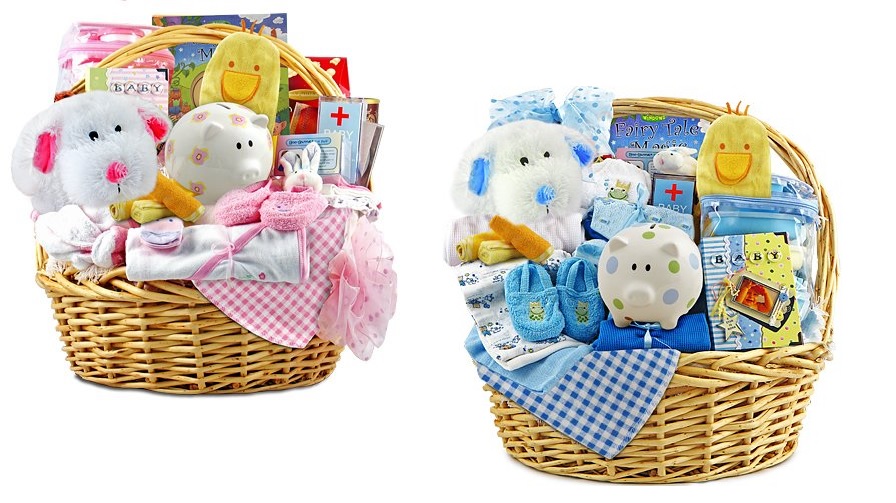 These Gift Baskets are Available in Pink or Blue
Each Gift Basket Includes:
Piccolo Bambino Cuddly Pals Animal Blankie
Receiving Blanket
Sleeveless Undershirt with Snaps
Short Sleeved Undershirt with Snaps
Long Sleeved Bodysuit
Snap T-shirt
3 Pairs Animal Socks
3 Burp Cloths
Duck Wash Mitt
Three Duck Washcloths
Hooded Towel
Johnson's Baby Wash, Baby Shampoo, Baby Lotion , Baby Powder, and Moisturizer
Giant Bottle Bank with two 8 oz. Bottles and Bottle Brush
Lidded Bowl, Lidded Juice Cups, Lidded Snack Cup & Lidded Tumbler Cup
Baby Fork and Spoon Set
Teether
Comb & Brush Set
Rattle
Velour Robe
Two-piece Pajama Set
Original Boo-Bunnie Ice Pack
Baby Medical Kit (Includes Medicine Measuring Spoon, Digital Thermometer, Nasal Aspirator, Nail Clippers)
Baby Book
Ceramic Piggy Bank
"Star is Born" Photo Album
A Plush Puppy for Baby
Snack Treats for Mom
Search for A Different Gift
---